Located at Svenska Bangalore, Soul is a specialty restaurant, offering gourmet Indian delights.  The Royal Indian Platter is a hugely popular offering for lunch with a scrumptious range of North and South Indian cuisine.  In the evening, Soul forms the perfect setting for special occasions as well as entertaining clients, serving both traditional and inventive cuisines celebrating India. The interactive kitchen forms into a food theater giving guest a complete dining experience. Live barbecue is also very popular with the freshest of vegetables, seafood and meats, grilled to perfection with marination of choice.
VIRTUAL TOUR OF SOUL AT SVENSKA BANGALORE
TAKEAWAY AND DELIVERY MENU AT SVENSKA BANGALORE
Given its popularity, Soul has also opened an al-fresco restaurant and bar on the rooftop of Svenska Mumbai (Sky Lounge), offering hot starters and drinks starting only Rs.99 + taxes, for a delightful evening under the stars!
VIRTUAL TOUR OF SOUL SKY LOUNGE AT SVENSKA MUMBAI
TAKEAWAY AND DELIVERY MENU AT SVENSKA MUMBAI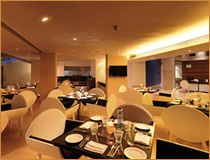 Svenska Bangalore:
Breakfast: 7 a.m. to 11 a.m.
Lunch: 12 noon to 3:30 p.m.
Dinner: 7:30 p.m. to 11:45 p.m.
Opening: 7:30 p.m. to 11:30 p.m.